Join Berkley White and Erin Quigley on a special trip to Alor aboard Pindito, the only liveaboard dive boat in Indonesia with over 25 years of experience! In continuous operation since 1992 under owner Edi Frommenwiler, the MV Pindito's crew is unmatched for its diving knowledge and experience in Indonesia.
This trip will start in Maumere on Flores Island and head east to explore the archipelago of Alor. With it's incredible mixture of both wide angle and macro photo opportunities you'll never be at a loss for something to shoot.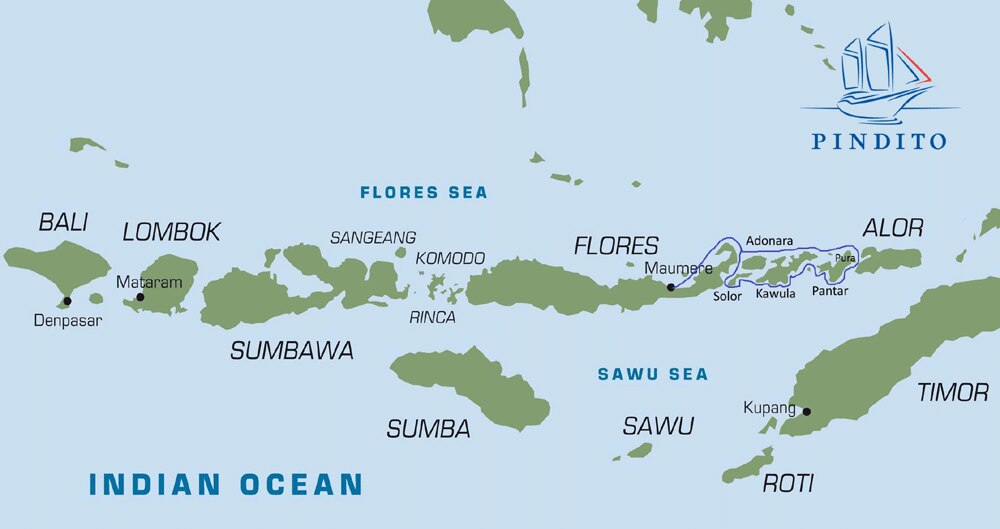 Pindito
One of the most beloved and longest running liveaboards in all of Southeast Asia the MV Pindito's crew is unmatched for its diving knowledge and experience in Indonesia.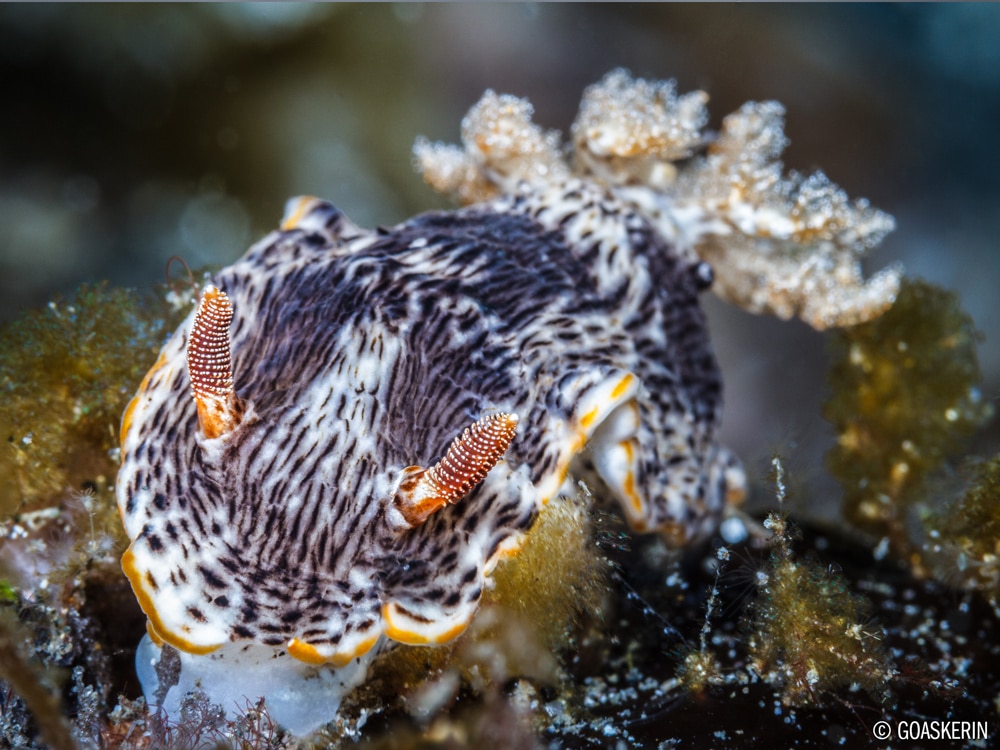 Cruise itinerary
It is very important to the Pindito to offer the best possible itinerary for their guests. Planning the route includes taking in account many different factors, most important the weather. Since storms can be encountered in the tropics even during the best travel time of the year, the Pindito takes the right to alter the cruise itinerary on short notice if necessary.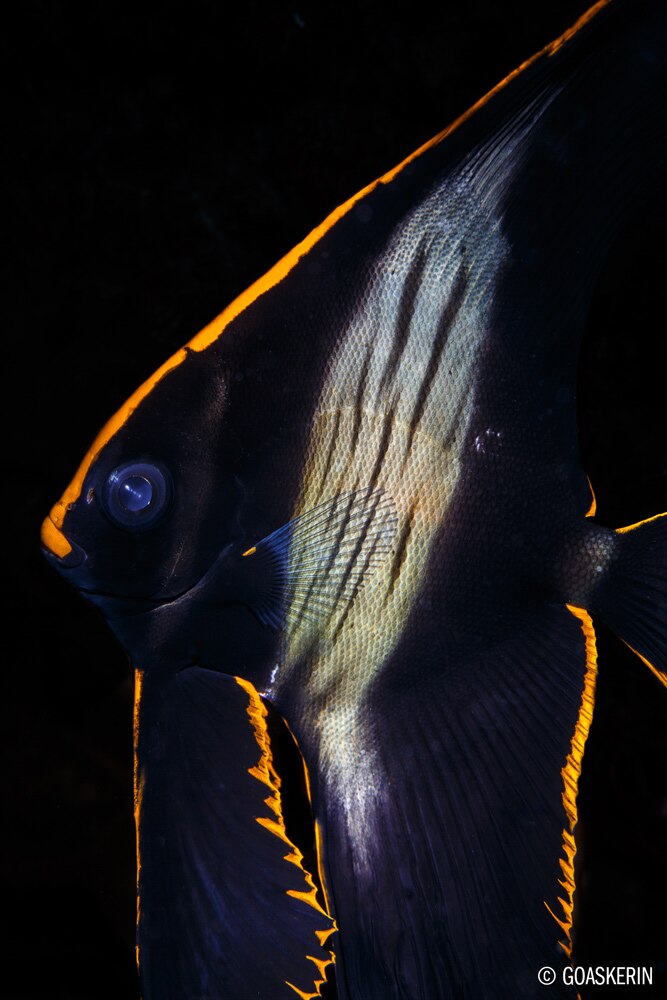 You will board the ship in Maumere on the big island of Flores in Eastern Indonesia. Most likely the Pindito will sail directly overnight towards Alor to dive the area around the islands of Kumba, Ternate and Pura (which all lie in the Pantar Strait) in de following days. The cruise continues on to the islands of Marisa, Kawula, Solar and Adonara before heading back to Maumere.
Alor & Kumba
On the island of Kumba there is a spectacular volcano that contributes to some of the most gorgeous sunsets and sea vistas in this exotic destination. The surrounding waters harbor food-rich currents and cool waters (70-75 degrees), fantastic conditions for encounters with larger marine animals. White-tip and grey reef sharks, giant groupers, mantas, mola-mola, and whalesharks can be spotted around Kumba Island.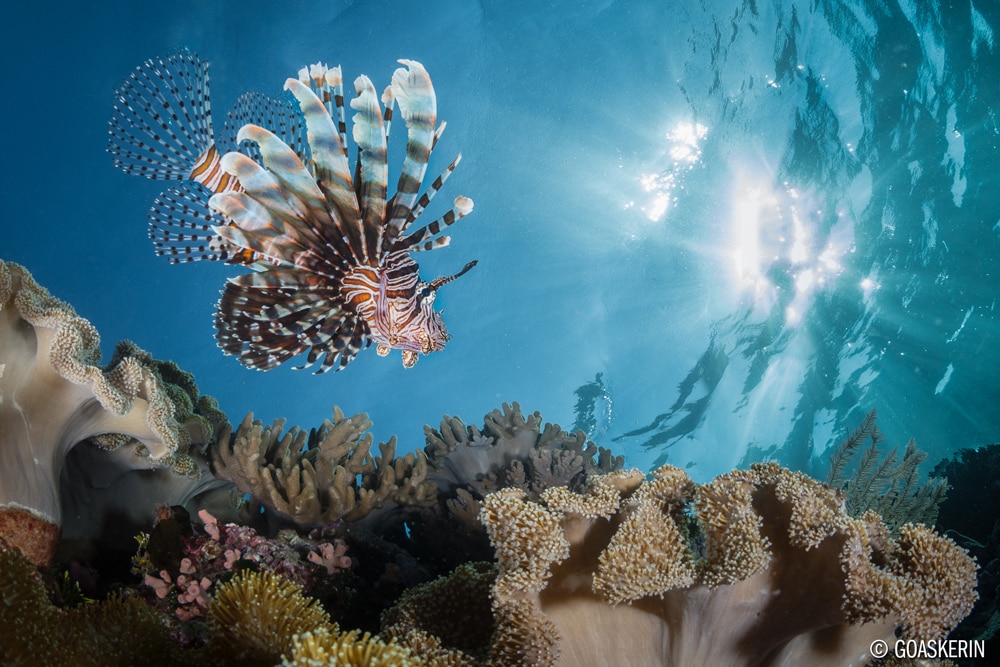 In Alor you can see young free-diving goggle-fishermen as they free-dive bare-footed, peering through homemade goggles to check their bamboo fish traps (sustainable small-scale fishing). Giant barrel sponges, fragile finger corals, huge boulder corals, flowing schools of glassfish, sweetlips, emperor angelfish, countless cleaning stations, and on-and-on paint the underwater landscape of Alor as you swim along her pristine reefs at 50-60 feet.
On Alor you will have a chance to visit a local village. Here there are still a lot of local rituals, that are practiced regularly. Visit the local market, where the people sell everything from fresh exotic fruits, seafood, spices, handicrafts and clothing. The locals are very friendly and like having visitor come to their islands.
Buaya, Ternate & Pura
These small islands are situated in the Pantar Strait between Alor and Pantar. The water here at some dive spots like "The Bullet" or "Sharks Gallore" can get really cool (70-72F). We highly recommended that our divers use a 5-7mm wetsuit here and for some, a hoody provides welcome warmth. But with the cool waters comes the liklihood of pelagics and riotous marine-life richness.
There are also a couple of beautiful critter spots with mating mandarinfish, cryptic crawling Ambon scorpion fish, pensive Pegasus sea moths, secretive seahorses and unusual crustaceans. One of the highlights of these dives are the bamboo shark sitings, a species found very few other places in the world. Above water you can see whales and dolphins and with a little luck you can spot pilot whales and whalesharks.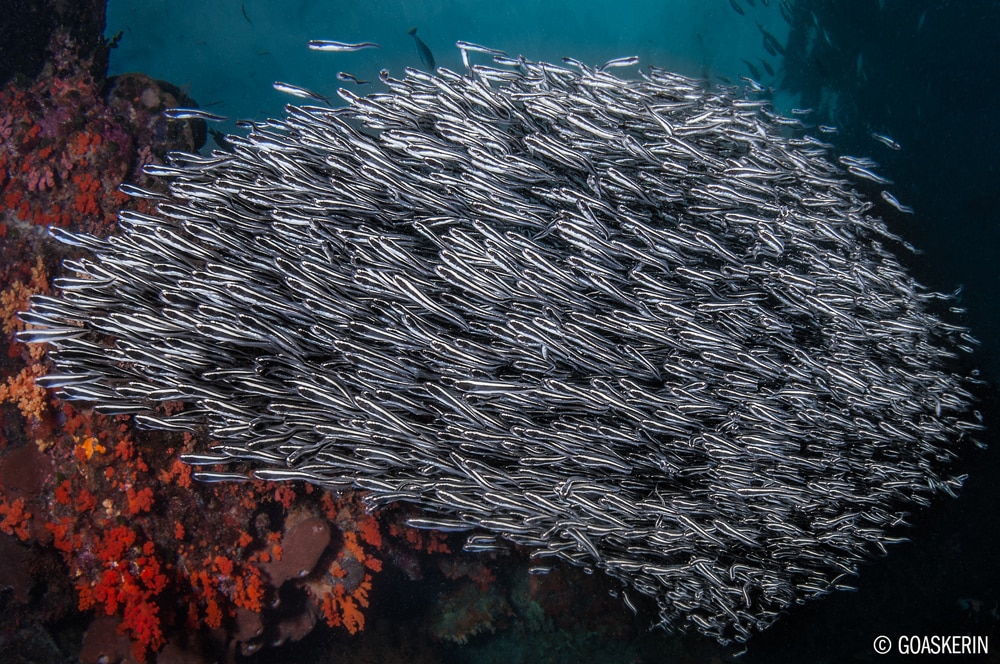 Pantar & Marisa
Around these small islands you should also keep your eyes open for octopus. Moving along the seabed move "close and slow" as you scan for mimic octopus, wonderpus, and the blue-ringed octopus. Also look for various scorpionfish species including Rhinopius. Then look for flying gurnards sneaking around the black sand landscape. Nestled in small sea fans, hydroids or crinoids you can spot ghostpipefish, skeleton shrimps, decorator crabs, commensal shrimps and angling frogfish. The black sand provides welcome contrast for the vivid colors of the otherwise cryptic critters and it guarantees images that "pop"!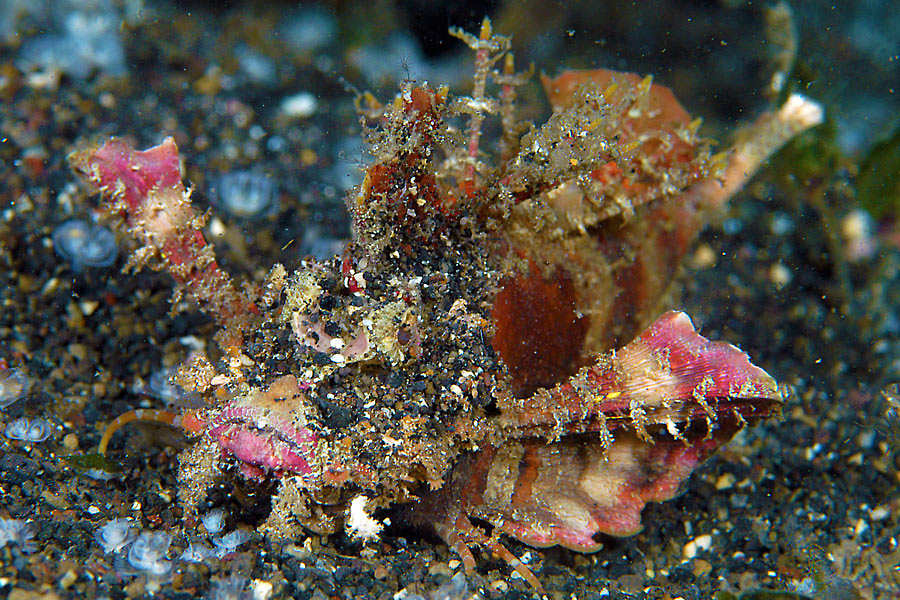 Kawula
Kawula offers the perfect habitat for muck critters. The visibility may be limited to 25ft, but these sites are meccas for frogfish, seahorses, rare scorpionfish, pipefish, and commensal crustaceans.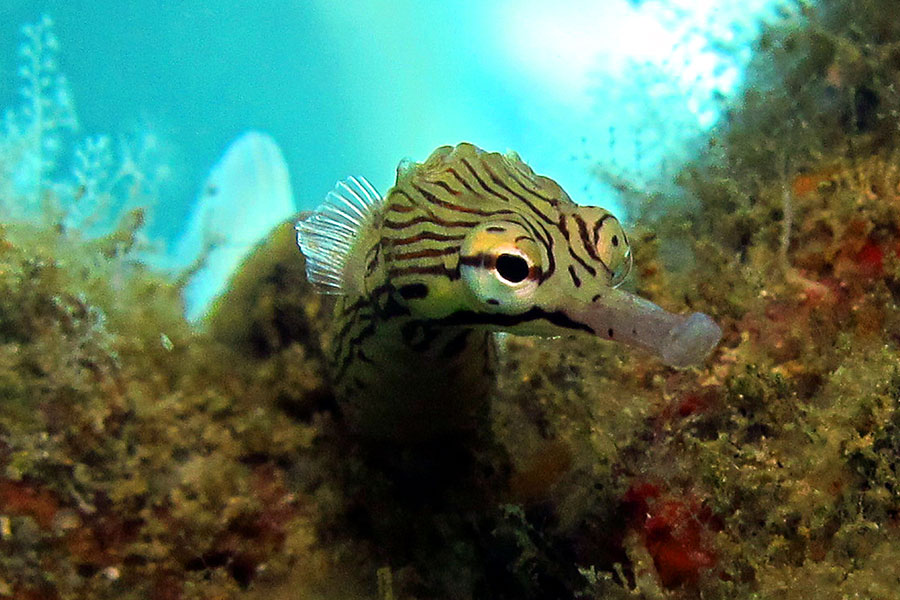 Solor
In Solor you may get the chance to visit the small village "Lamalera", which is located in a little bay close to an old volcano. It is the extremely unusual and traditional way of sustenance hunting that brings us to this village.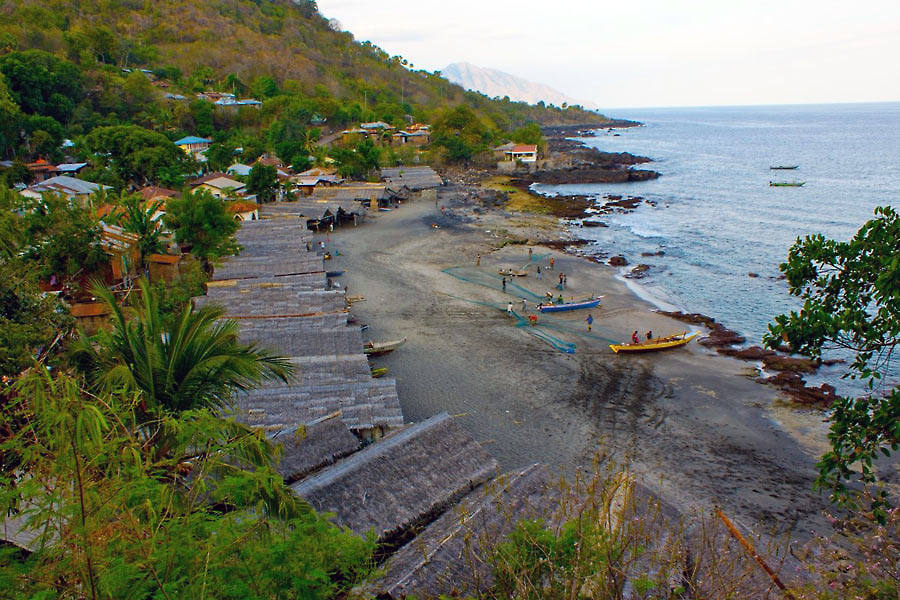 Lamalera may be the only place in the world where the locals go whale hunting using traditional methods. The methods are ancient and are passed on from generation to generation. The villagers sail out to the sea in their wooden dug-outs and hunt for sperm whales with simple bamboo spears. Occasionally they are successful, and when this rare event occurs the meat is shared throughout the village providing the rare necessity of protein for these people.
We would like to advise our guests, that the visit of the village depends on the villagers. Should the visit not be possible, an alternative program will be offered. The whale hunting is part of the local tradition and has nothing to do with commercial fishing. The visit is optional and every guest has the choice to do an alternative program.
Adonara
Many colorful species of corals and textured sponges adorn these lovely reefs. The 3-D structure forms rich habitat for a diverse fauna of coral reef species. Adonara sites are also notable places to see and film pygmy seahorses clinging to the gorgonian sea fans whose polyps and coloration the pygmies have evolved to match perfectly. You will also see schools of snappers, sweet lips and giant trevallies along the drop-offs. Keep an eye out for sea turtles, manta rays, reef sharks and other pelagics as you approach reef points and buttress edges.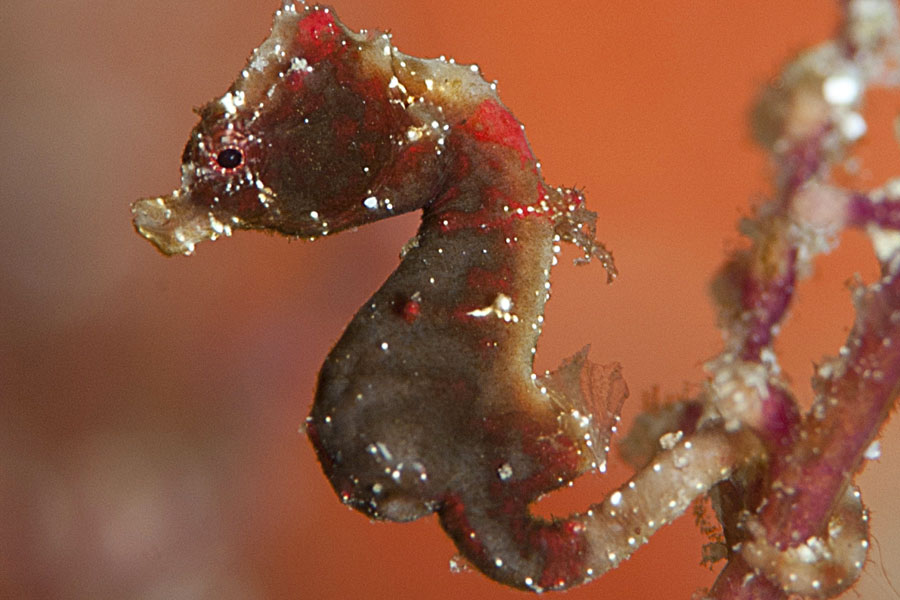 Maumere
You will finish this cruise with dives in "Muck Central"… Maumere (on the island of Flores). Pindito is the original pioneer of this sleepy Indonesian fishing port that teems with cryptic odd-balls including frogfishes, Ambon Scorpionfishes, leaf-fishes, mercurial schools of venomous catfishes, mandarinfishes, seahorses, giant pen shells in black coral hedges under the town pier, bunches of purple tunicates, harlequin shrimps and so on. This is an awesome place for you to film cool critters. And here you can fill up the final bits of digital memory in your reserve and you can create memories that will fuel your imagination for years to come.
Standard Package Includes:
12 nights aboard the Pindito, twin shared cabin
All meals, soft drinks and alcoholic drinks (except wine)
Nitrox
Harbor fees
Pricing:
$5,999 per person
Additional costs:
International airfare to Bali (DPS)
Domestic airfare to/from Maumere
Accommodations and activities before and after the cruise
Airport – Hotel transfers
National Park Fee
Wine
Trip Insurance
Crew tip
Travel info:
July 22 (or earlier): Arrive in Bali (DPS)
July 23: Fly to Maumere and board Pindito
Aug 4: Disembark Pindito in Maumere and fly back to Bali
Contact us for more travel details. We can assist in booking all flights, tours, transfers, and accommodations in Bali before and after the cruise.
Divers Alert Network (DAN) or equivalent evacuation insurance is MANDATORY on all trips. Comprehensive Cancellation, Accident, Medical and Baggage insurance such as Dive Assure is HIGHLY RECOMMENDED.


Berkley White is the owner and founder of Backscatter Underwater Video & Photo. Berkley is one of the leading underwater imaging professionals, who's passion for underwater imaging is equaled by his passion for educating others. His images and articles are regularly seen in national and international scuba diving publications, and he leads several educational underwater imaging expeditions each year, such as The Digital Shootout. To view his online portfolio, please visit berkleywhite.com.


Erin Quigley is a Adobe ACE certified digital imaging consultant specializing in customized workflows and editing strategies using Adobe Photoshop and Lightroom. She is an award-winning underwater photographer and video editor, and creator of GoAskErin.com, which provides one-on-one instruction, custom video tutorials, and Photoshop and Lightroom resources specifically developed for underwater shooters.