This Live Event has passed, but fortunately, it's available "On Demand"!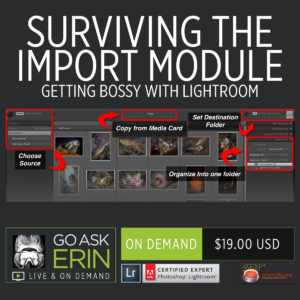 On Friday, April 10 from 11AM – 12PM (approx) PDT, we'll navigate the minefield of the Import Module. This panel is the most booby-trapped of any in the entire Lightroom ecosphere. No wonder it's the single most snafu-ed part of the interface, where in order to succeed, you've really got to show Lightroom who's boss.
• How to consistently and confidently import (link) your images to Lightroom without wreaking chaos.
• Learn all there is to know about the process of importing. How to harness the power of customization – how to rename, backup, add copyright info and keywords, and finally how to bake all the details into a foolproof preset BEFORE you leave for remote lands.
• How to build the perfect empty folder structure to rescue your current f*ed-up catalog.
• How to identify and avoid a bunch of sketchy defaults that Lightroom tries to force on you.
• How to troubleshoot your DAM (digital asset management) mess.
Here's the link to Register: bit.ly/GAE_LiveEvent_20200410
New Zoom Live Event User? Visit our Resources Page Here: bit.ly/GAE_resources