This 7-day total immersion workshop is the perfect combination of fantastic diving and expert Lightroom training. You'll learn how to apply Erin's simple step-by-step workflow and image editing techniques to photos you shoot during the week in beautiful Little Cayman. This workshop is hands-on, high-intensity, and FUN! Think Bootcamp in Paradise. In order to get the most out of this workshop, you must have basic computer skills and understand how to navigate your computer's operating system.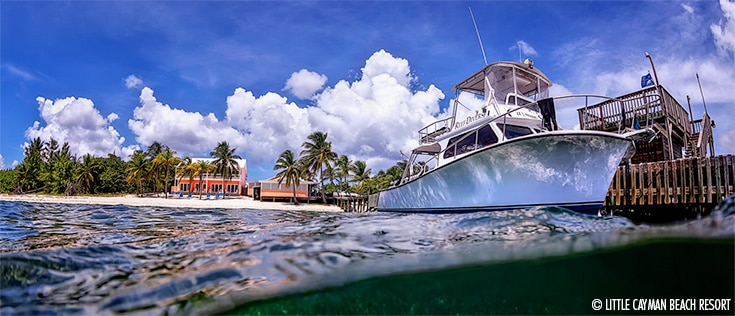 Week 1: Nov. 26-Dec. 3, 2022 (Beginner)
Week 2: Dec. 3-10, 2022 (Intermediate/Advanced)
Immerse yourself in Lightroom to maximize the potential in your images.
The best way for underwater shooters to learn and remember Lightroom is via hands-on workshop sessions and real-world repetition. Reading Lightroom books and watching tutorial videos can be helpful, but if the skills aren't practiced, they're quickly forgotten. You don't feel Lightroom in your bones until you settle into a logical workflow and experience it day after day in the field, using your own photos and computer gear. That's when it really sinks in. That's when it finally makes sense.
The Total Immersion class sessions introduce a new concept or skill daily. Each day, another technique is added, building on previous work. As the days go by, a practical workflow emerges and is repeated, all while enjoying gorgeous diving.
The Lightroom Total Immersion workshop is not for the faint of heart. An amazing amount of information is covered during the week. What makes it extra-special is that it's all specific to underwater photography, and it's all customized to each participant's Lightroom needs.
Watch the above video to learn more about the Lightroom Total Immersion Workshop.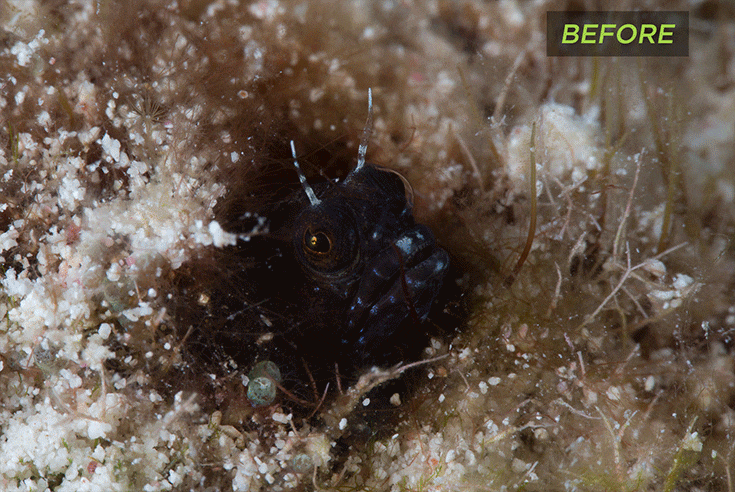 Lightroom Total Immersion is limited to 12 participants, in order to insure plenty of one-on-one time with Erin. Sign up soon – these spots will go fast!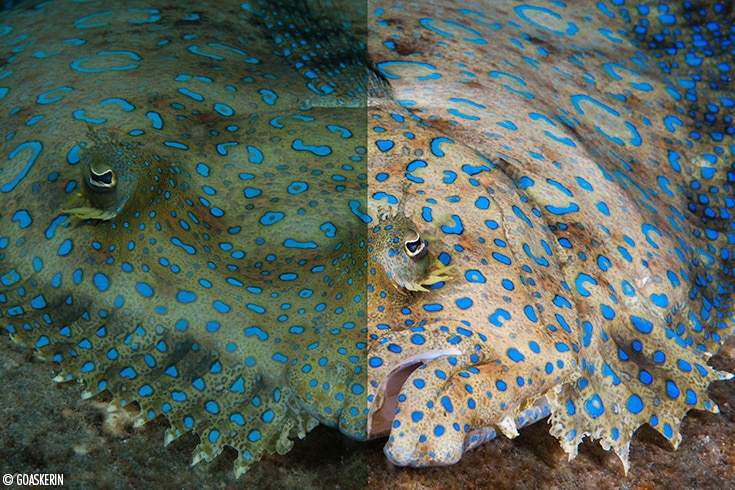 Learn how to transform your images from blah to Aaaaah!

Which session should I attend?
The Beginning session will cover Lightroom essentials from Import to Export, with an emphasis on building confidence and competence in both the Library and Develop Modules.
The Intermediate/Advanced session includes a complete review of Erin's recommended basic workflow, then delves deeper into the Library and Develop Modules, even crossing over to Photoshop occasionally for more advanced techniques and the occasional dirty trick.
If you have the time, take both classes back to back. The second week builds upon the first, so continue your training and double your time in paradise.
Participants in each session will receive the GoAskErin Total Immersion Workbook, waterproof shortcuts sheet, and an invitation to the exclusive GoAskErin Bootcamp Survivors page on Facebook, where you can post images and questions for quick response. Space is limited, so reserve your spot today!
Space is limited so sign up now!
Standard Package Includes:
7 nights accommodations at Little Cayman Beach Resort., double occupancy
3 meals daily
12 boat dives
Airport transfers
Go Ask Erin awesomeness
Price:
$2,599
(per person, double occupancy)
Additional costs:
Airfare to Little Cayman (LYB)
Nitrox
Room upgrades
Single supplement
Please note that Divers Alert Network (DAN) or equivalent evacuation insurance is mandatory on all trips. Additionally, comprehensive Cancellation, Accident, Medical and Baggage insurance such as Dive Assure, Generali Global Assistance or Travel Guard is highly recommended.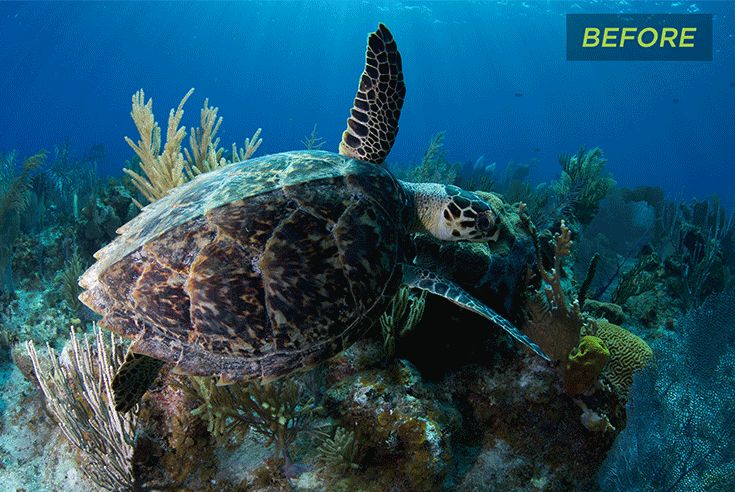 Total Immersion Testimonials:
Having just attended the Lightroom Bootcamp on Little Cayman, I can honestly say it was Awesome. Highly recommend to everyone!
Tim White
I attended the "Lightroom Bootcamp" in Little Cayman in March of 2014 with Erin Quigley of Go Ask Erin. It was, in a word, FANTASTIC!! Erin's gifts of patience, knowledge, organization, humor, and boundless energy were all evident throughout the fast paced but COMPLETELY fun filled week!
Rick Mooney M.D.
I've been working with Lightroom for 3 years without any training and thought that I knew a little about the software. WRONG! After Lightroom Bootcamp, now, I do know a little about what I am doing and I'll be back for more.
Randy Pysher
We have never used Photoshop or Lightroom. That is why we attended Erin's Lightroom Bootcamp in Little Cayman. Erin made it easy to understand and to organize our hard drives and photos. Her step by step set process made it easier to use Lightroom. Thanks a bunch!
Michael and Fernisa Quitasol
Erin shares her vast knowledge of Lightroom with so much passion and enthusiastic energy! I had a great time and learned so much. Cannot wait for the next Bootcamp!!
Pam Henning
Erin possesses the trifecta of photographic skills. Awesome photographer. Photoshop and Lightroom expert. And a great ability to communicate those skills.
Linda Katz, M.D.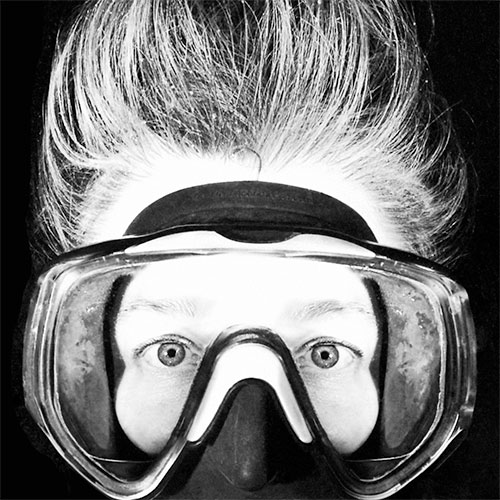 Erin Quigley
is a Adobe ACE certified digital imaging consultant specializing in customized workflows and editing strategies using Adobe Photoshop and Lightroom. She is an award-winning underwater photographer and video editor, and creator of
GoAskErin.com,
which provides one-on-one instruction, custom video tutorials, and Photoshop and Lightroom resources specifically developed for underwater shooters.