Join Berkley White and Adobe Lightroom expert Erin Quigley on a unique photo expedition to the Galapagos Islands aboard the luxury liveaboard dive boat Galapagos Sky. Gently swept by the waters of three major oceanic currents, the Galapagos Islands provide a stunning range of extraordinary diving encounters for live-aboard divers.
Join Berkley White and Adobe Lightroom expert Erin Quigley on a unique photo expedition to the Galapagos Islands aboard the luxury liveaboard dive boat Galapagos Sky.
Gently swept by the waters of three major oceanic currents, the Galapagos Islands provide a stunning range of extraordinary diving encounters for live-aboard divers.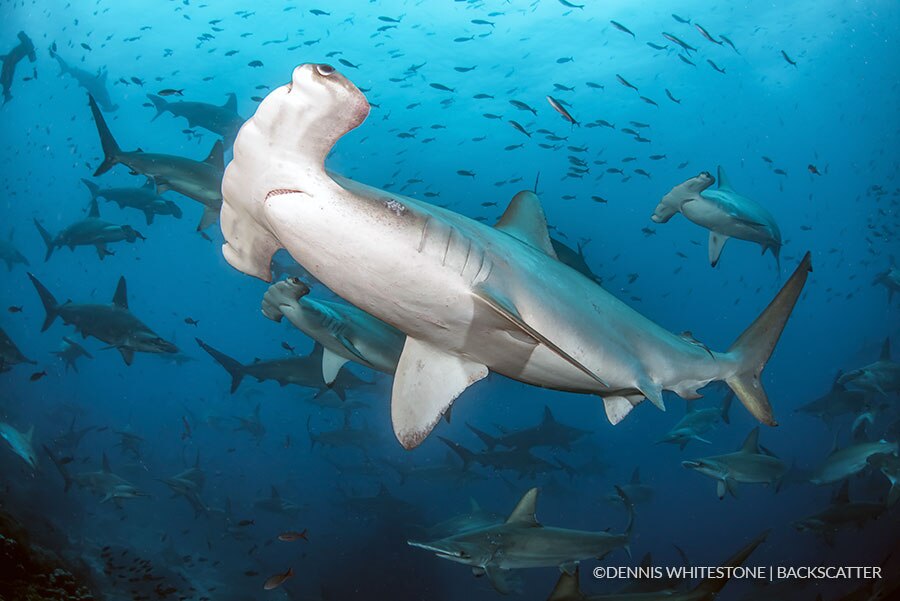 Schooling Hammerheads, giant whale sharks, rays of all shapes and colors, turtles, huge schools of fish, Galapagos fur seals, and astounding marine life diversity are just some of the riveting attractions of Galapagos liveaboard diving – a destination many divers feel is "the best in the world".
Whale Shark Season
While you may see whale sharks during any cruise on M/V Galapagos Sky, the number of encounters goes up dramatically during WHALE SHARK SEASON – JUNE THROUGH NOVEMBER of every year.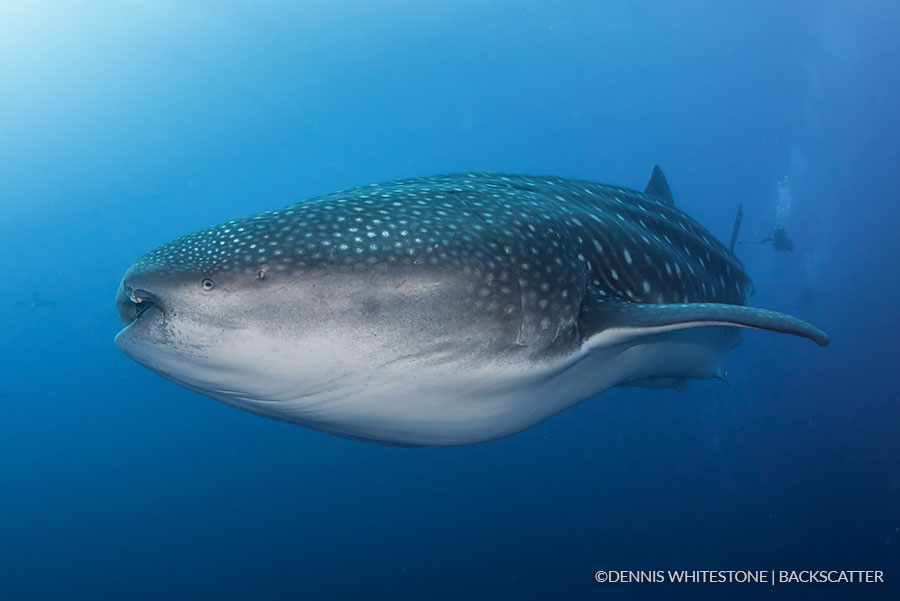 Whale sharks (Rhincodon typus) are the largest fish in the sea, and large adults may reach 40 ft. (12.2 m) in length, and mature adults are typically 30+ ft (10 m) in length. They may weigh 40,000 lbs or more. Only a few of the great whales (mammals) are larger.
There's really nothing like the thrill of finding and seeing a whale shark in their natural habitat. Their size alone delivers an unforgettable impression. They are also often accompanied by a host of other sea denizens: remoras, cleaner fish, tuna, mackerel… Large whale sharks bring a mini-ecosystem along for the ride.
Galapagos Sky
The luxury liveaboard M/V Galapagos Sky is a 100 ft. (33m) state-of-the-art live-aboard diving yacht exploring the fabled waters of the Galapagos Islands.
"Sky" has cruised the islands of the Galapagos Archipelago for nearly a decade – providing thousands of divers with high octane, extraordinary Galapagos diving experiences. Our Galapagos live-aboard cruises also offer a full line-up of luxury accommodations, excellent food, "extra touch" amenities, and friendly, helpful staff.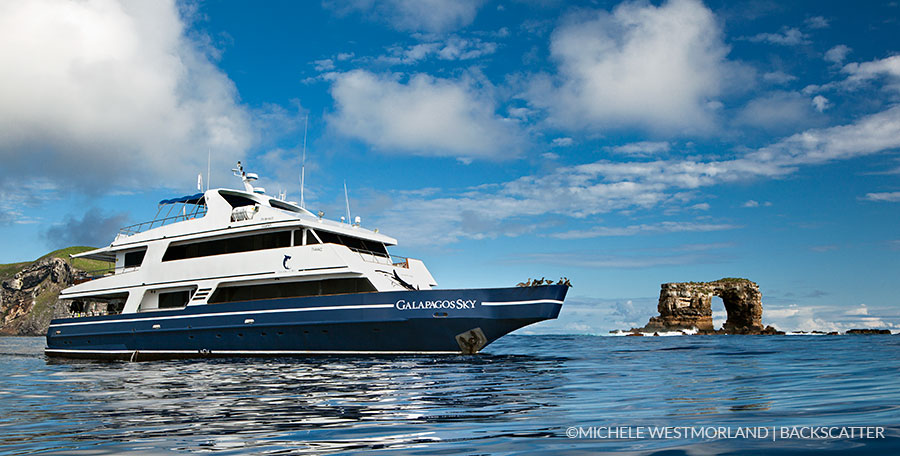 M/V Galápagos Sky's dive deck was designed with the diver's needs in mind. Camera table, charging station for camera batteries, hot showers, bathroom, separate rinse bins for wetsuits and separate rinse bins for cameras. Each dive station has individual bin storage under the seat. Dive deck towels are labeled with numbers to coordinate with the diver's seat location. Towels are heated.
Accommodations include eight private en-suite cabins with two twin or one king-size bed options. Each cabin features a private head/shower, mirrored cabinet and wardrobe, bathrobes, hairdryer, and marine safe (biodegradable) toiletries.
Master Stateroom cabins 1-4 are located on the Dolphin deck and have two twin beds (that can be joined together), private facilities, window view, mirrored cabinet, wardrobe, bathrobes, hairdryer, biodegradable toiletries, fresh towels daily, air conditioning and volume controls.

Deluxe Stateroom cabins 5-8 are located on the Iguana deck and have two twin beds, private facilities, Port light view, mirrored cabinet, wardrobe, bathrobes, hairdryer, biodegradable toiletries, fresh towels daily, air conditioning and volume controls.
Diving Conditions
Please note that diving in the Galapagos is advanced due to strong currents, varying visibility, and cold water. Temperatures in October range from low 60's to upper 70's in different areas of the itinerary. A 7mm wetsuit with a hood, vest, and gloves are recommended.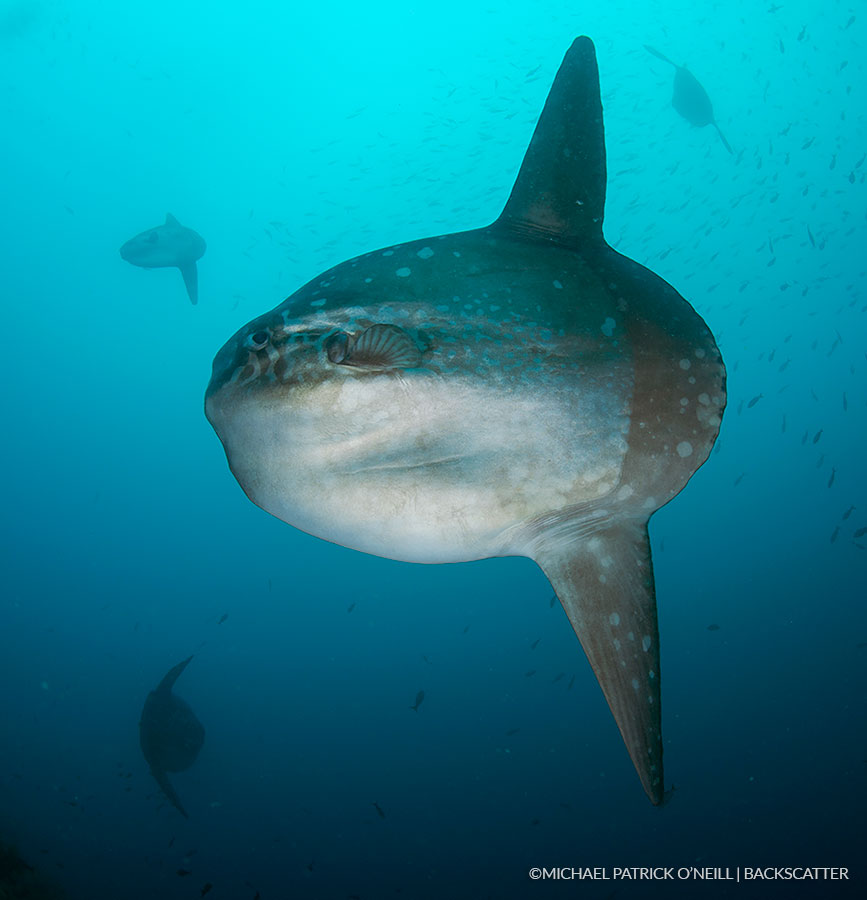 Divers must be comfortable in these conditions, as well as have very good buoyancy control and be able to do negative (sometimes rapid) back-roll entries/descents from small boats. Recommended requirements include 50-100 open water dives, experience in currents, ability to remove gear in the water and ability to get into small boats (inflatable tenders) in choppy seas.
Land Excursions
During your time in the central islands, you'll also walk in the steps of Charles Darwin, with 3 guided land excursions. Your first land experience you will enjoy will be the beautiful panoramic views as you climb to the top of Bartolome. Views will include those of Pinnacle Rock in the bay and also lagoons in the distance that those who have watched "Master and Commander" with Russel Crowe will recognize! You will also visit later in the cruise the Highlands in Santa Cruz in search of the Galapagos Tortoises in their natural habitat while later in the day you can finish this excursion with an unguided visit to the Charles Darwin Research Center during free time in the port area. Lastly, on Sunday morning our guests will explore the Interpretation center in San Cristobal where much about Galapagos history and conservation efforts can be learned. This visit occurs just before your return flight to Ecuador.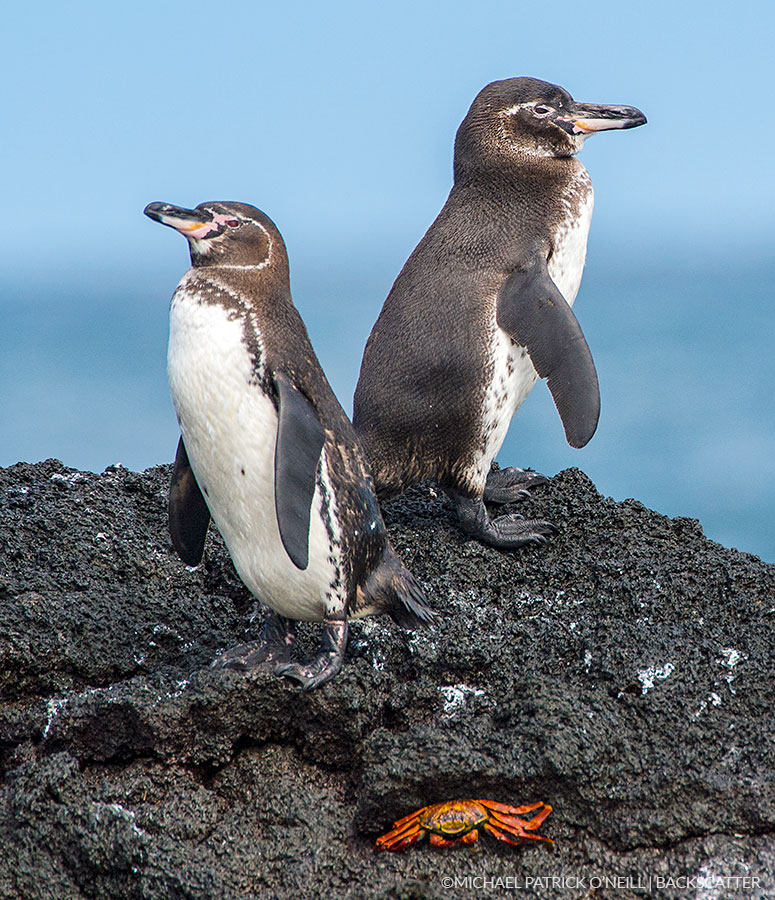 Getting there
You can fly to the Galapagos from either Quito or Guayaquil Ecuador. Both cities are serviced by many major US airlines. You'll need to arrive at least one day before your flight to Galapagos but we recommend coming in two days early in case of any travel delays or lost luggage. If you miss the flight to Galapagos, you'll miss the entire trip. We can arrange for tours and activities in Ecuador along with hotel and domestic flights to Galapagos.
Travel info:
October 1 (or earlier): Arrive in Quito or Guayaquil
October 2: Fly to Galapagos Islands and board Galapagos Sky
October 9: Disembark and fly back to Quito or Guayaquil
October 10 (or later): Fly home
Standard Package Includes:
7 nights aboard the Galapagos Sky, double occupancy
All meals
Diving
Nitrox
Soft drinks, Beer & wine with dinner
3 land excursions
Airport transfers
Galapagos National Park fee $100
Transit card $20
Chamber fee $35
Taxes
Pricing:
$6,999 per person in a Deluxe Cabin
$7,299 per person in a Master Cabin
Additional costs:
International airfare to Quito (UIO) or Guayaquil (GYE)
Domestic airfare to the Galapagos Islands
Accommodations before and after the cruise
Trip Insurance
Crew tip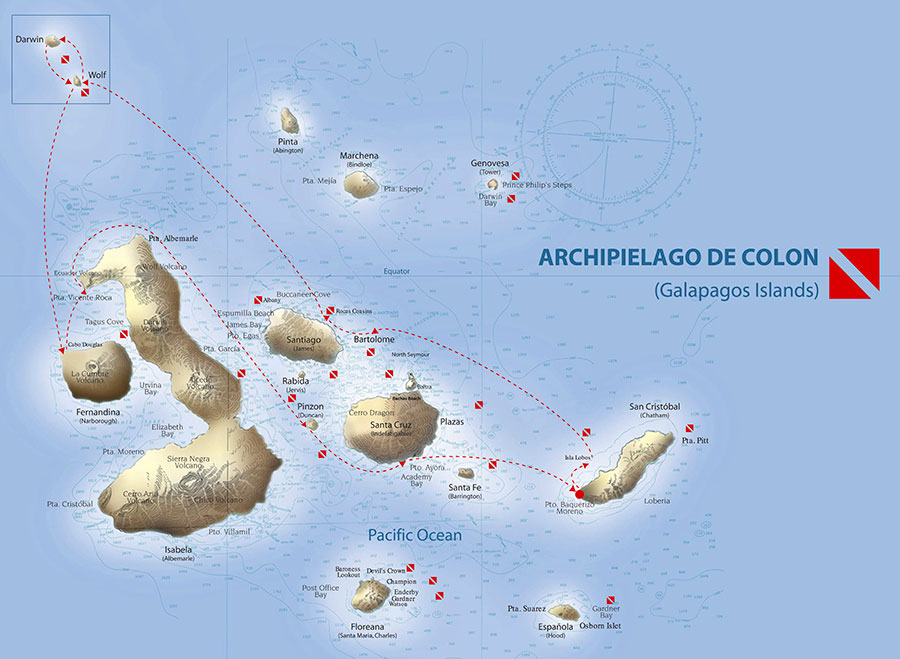 Itinerary:
Saturday, Oct 2: (Embarkation day):
Isla Lobos- Check out dive
When you arrive at the airport at San Cristobal on Sunday (Avianca flight 1636), the crew of the Galapagos Sky will personally meet you, collect your luggage, and escort you to the Galapagos Sky. Your luggage will be delivered to the dive deck for you. After everyone is on board, we will introduce you to the boat and do our mandatory safety briefings and drills. Then, we cruise to the area of Los Lobos for your check-out dive.
This will be your first underwater introduction to Galapagos sea lions and fur seals! Watch them Zoom in and out and dance playfully for you!
Even on the first day of your liveaboard cruise – you begin to see the myriad and diverse land formations that comprise the Galapagos Islands topside. It is then you realize you will see nothing like it in your lifetime.
Sunday, Oct. 3
Bartolome – 1 dive and land walk
Cousins 2 dives
Bartolome – Penguins can be seen at this dive site. Bartolome is a lovely area where guests enjoy a favorite land tour where they can climb to the top of the hill to where breathe taking views abound.
Cousins Rocks– this dive is an itinerary favorite and is done along a beautiful wall and allows for great viewing opportunities for corals, frogfish, sea horses, scorpionfish, and octopus. It is also a great dive for large schools of Barracuda and also Hammerhead shark sightings. Sea lions will be your companions upon entry and on the safety stops.
By definition, the entire Galapagos Archipelago is geographically remote. But after this day of your live-aboard cruise finds you heading toward the most isolated, northernmost part of the Galapagos Islands – the uninhabited, untouched, twin cathedrals of world-class diving – Wolf and Darwin Islands.
Monday-Wednesday Wolf & Darwin
Tues-4 Dives a day at Wolf plus a night dive
Wed-4 dives at Darwin
Diving Wolf and Darwin
You'll spend the next three days diving (up to four dives per day plus a night dive) the legendary islands of WOLF & DARWIN.
Most experienced divers will agree, Wolf and Darwin can provide some of the best diving encounters in the world! Whale sharks are common here from Mid May through November. At The Arch at Darwin, you will see hammerhead sharks either individually, in small groups, or large schools. Bottlenose dolphins are common. The reef contains many warm water varieties of fish found nowhere else in the Islands.
Once you see Wolf and Darwin – you'll immediately understand why there are no shore excursions on this part of the cruise – there is no way up the vertical cliffs!
Darwin Island: Considered by many experienced divers as the very best dive site in the world, The Arch at Darwin island (actually several dive sites depending on where you enter, currents, etc) honors its reputation. It is warmer by a few degrees than the central islands. In one single dive, you can find schooling hammerhead sharks, Galapagos sharks, large pods of dolphins, thick schools of skipjack and yellowfin tuna, big eye jacks, mobula rays, and silky sharks. From June to November, it is not uncommon to encounter whale sharks in multiple numbers on one single dive. The presence of occasional tiger sharks, black and blue marlin and killer whales adds on to this amazing diving experience. If you still have time to look for smaller stuff, you'll find octopus, flounders, and an enormous variety and abundance of tropical fish. Darwin Island is the biggest jewel on the Galapagos Crown.
Wolf Island: One of those magical islands, with several dive sites to choose from. If you want to see sharks, you are at the right spot. This is a place for schooling hammerhead sharks, large aggregations of Galapagos sharks, and occasionally whale sharks. Seeing dolphins, large schools of tuna, spotted eagle rays, barracudas, sea lions, and sea turtles are common. The bottom is littered with hundreds of moray eels, many of them free swimming. Being several degrees warmer than the central islands, you can look for many representatives of the Indo-Pacific underwater fauna. On a night dive here you will also enjoy spotting and watching the Red Lipped bat fish walk along the bottom of the sea!
Thursday
Cabo Douglas 1 dive – Marine iguana dive
Punta Vicente Roca up to 2 dives and Panga ride if time allows.
Cabo Douglas: On the western side of Fernandina Island, we will do 1 dive Friday morning. Here you can expect to see Galapagos Penguins, Marine Iguanas, Flightless Cormorants, Sea Lions, Seahorse, Sea Turtles, Horn Sharks, Red Lipped Batfish, and occasional hammerhead sharks and white tip sharks. Also keep an eye out for chevron barracuda, snappers, yellowfin tuna, rainbow runners, and wahoo. There are also a lot of smaller fishes like creole fishes, parrotfishes, scrawled filefishes, pacific box fishes, and tiger snake eels.
Punta Vincente Roca: Our coldest yet rapidly increasing favorite dive – a steep, deep vertical wall covered in soft coral, sponges, and endemic black coral. Regular sightings of mola mola (oceanic sunfish,) sea horses, bullhead sharks, red-lipped batfish, various shrimp and many other marine invertebrates. Keep your eyes open for fly bys from the flightless cormorants, penguins and maybe even a marine iguana. Our after-dive panga ride offers great topside photo ops for penguins, flightless cormorants, marine iguanas, sea lions, blue-footed & Nazca booby Birds, magnificent frigates and noddy terns. The diving here is chilly (particularly below the thermocline – but not to be missed!).
Friday
Northeast tip of Isla Pinzon/Islote Dumb- 1 dive
Puerto Ayora/Highlands tour
Isla Pinzon – While diving Isla Pinzon you will be provided opportunities for encounters with a variety of species of sharks, sea lions, mantas, eagle rays, and moray eels. Many species of fish and tropicals including yellow-tailed surgeonfish, king angelfish, Moorish idols, steel pompanos, snappers, grunts, creole fish, and barracuda.
This dive is then followed by a transit to Itabaca Channel where guests will be transferred by bus (at approx. 1400h and approx.. 45-minute ground transfer) to visit the Highlands of Santa Cruz to see the Galapagos Tortoises in their natural environment, and visit Puerto Ayora. Guests will then be transferred back to Itabaca Channel to board the Galapagos Sky approx. 1900h for dinner on board. The Sky will then return to San Cristobal for Sunday morning cruise completion.
Saturday Morning- Land Tour and Day of Departure
Interpretation center.
Arrive San Cristobal—(Land Excursion) visit the Interpretation Center where an interesting human history of Galapagos is presented, town walk (last chance for shopping). Late morning departure.
Please note that Divers Alert Network (DAN) or equivalent evacuation insurance is mandatory on all trips. Additionally, comprehensive Cancellation, Accident, Medical and Baggage insurance such as Dive Assure, Generali Global Assistance or Travel Guard is highly recommended.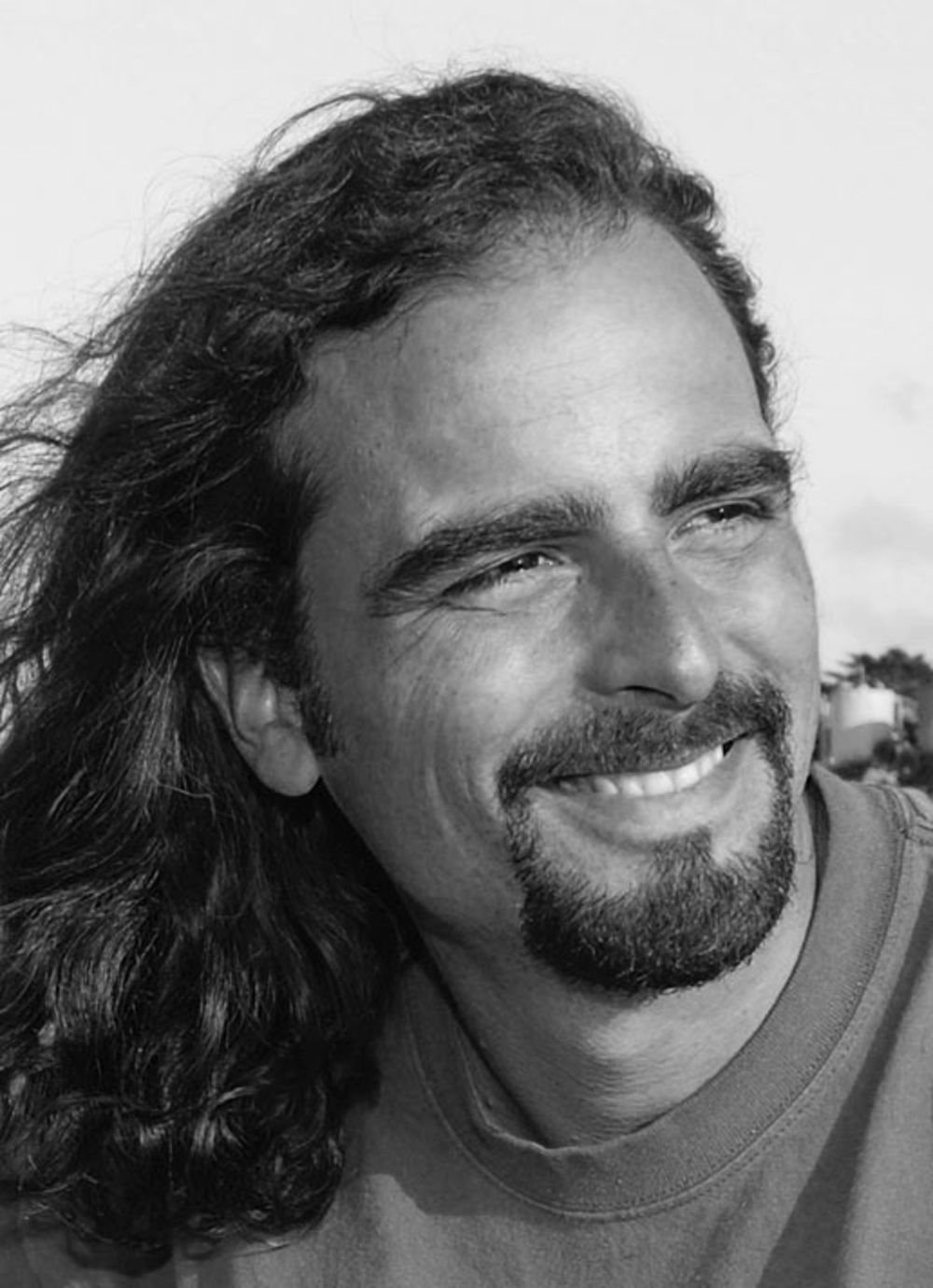 Berkley White
is the owner and founder of Backscatter Underwater Video & Photo. Berkley is one of the leading underwater imaging professionals, who's passion for underwater imaging is equaled by his passion for educating others. His images and articles are regularly seen in national and international scuba diving publications, and he leads several educational underwater imaging expeditions each year, such as The Digital Shootout. To view his online portfolio, please visit
berkleywhite.com.
Erin Quigley
is a Adobe ACE certified digital imaging consultant specializing in customized workflows and editing strategies using Adobe Photoshop and Lightroom. She is an award-winning underwater photographer and video editor, and creator of
GoAskErin.com,
which provides one-on-one instruction, custom video tutorials, and Photoshop and Lightroom resources specifically developed for underwater shooters.