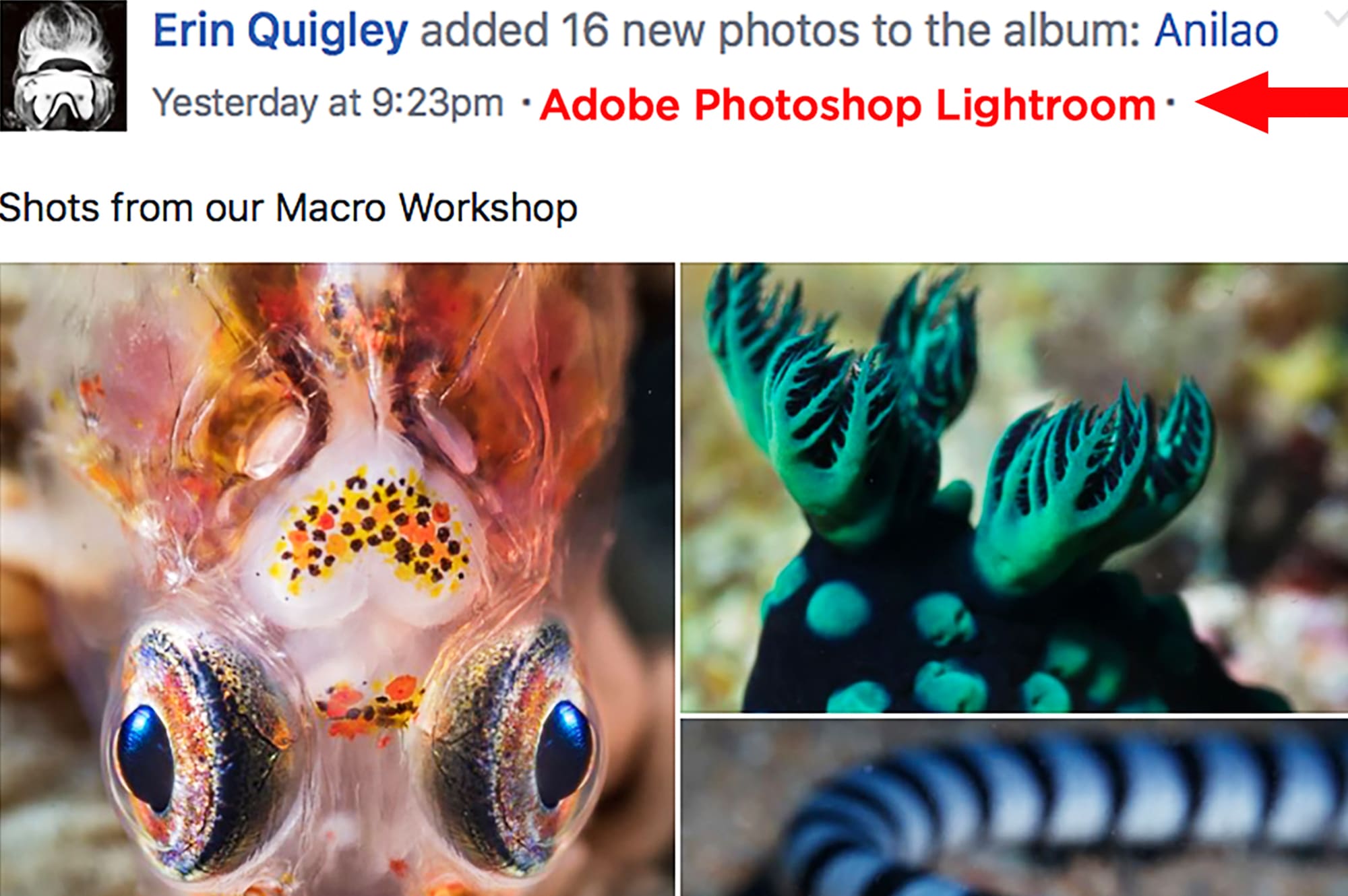 06 Sep

Lightroom, Meet Facebook
Post Directly to Facebook Using Lightroom's Publish Services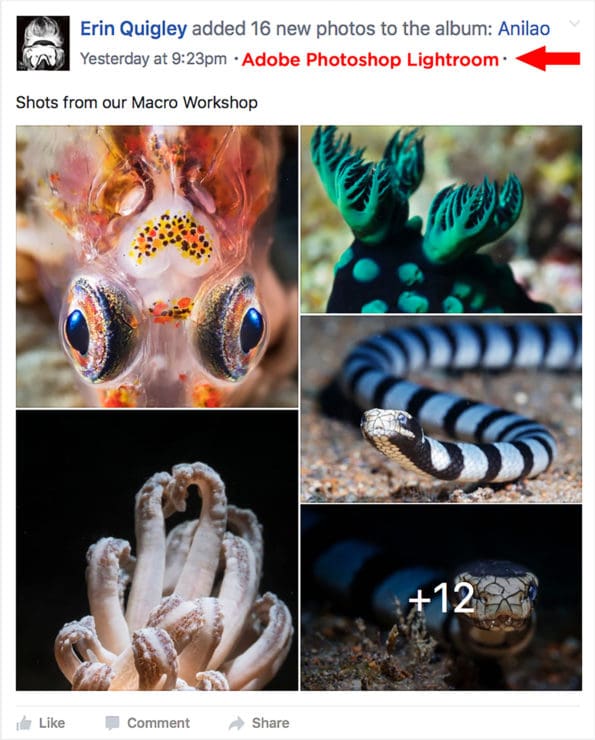 The Publish Services panel in the Library Module of Lightroom allows you to send photos directly from Lightroom to Facebook. Not only can you populate your Facebook Timeline without having to export and manage separate jpeg copies of your pictures – you can track Comments and Likes right from within Lightroom and even add your own remarks on the fly.
1. Create the Handshake.

To establish a connection between Facebook and Lightroom, click the Facebook connection Set Up button in the Publish Services panel on the left side of the Library module, and the Lightroom Publishing Manager dialog box will open.
In the Facebook Account area, click Authorize On Facebook, and follow the prompts to allow Facebook to communicate with Lightroom. Needless to say, you need a reasonable internet connection to complete this step, so don't wait until you're in a remote location to do it. Build Publish Services as part of your trip prep before you leave home, add content in the field as you travel, then publish to Facebook whenever you happen upon adequate signal.
2. Pimp Your Publish Service.
Specify additional export options, like the ability to name your
Publish Service, choose an existing Facebook Album or create a new one, and set photo titles. In this case, I named my Publish Service "Underwater", created a new Album called "Anilao", and decided to leave the photo titles blank.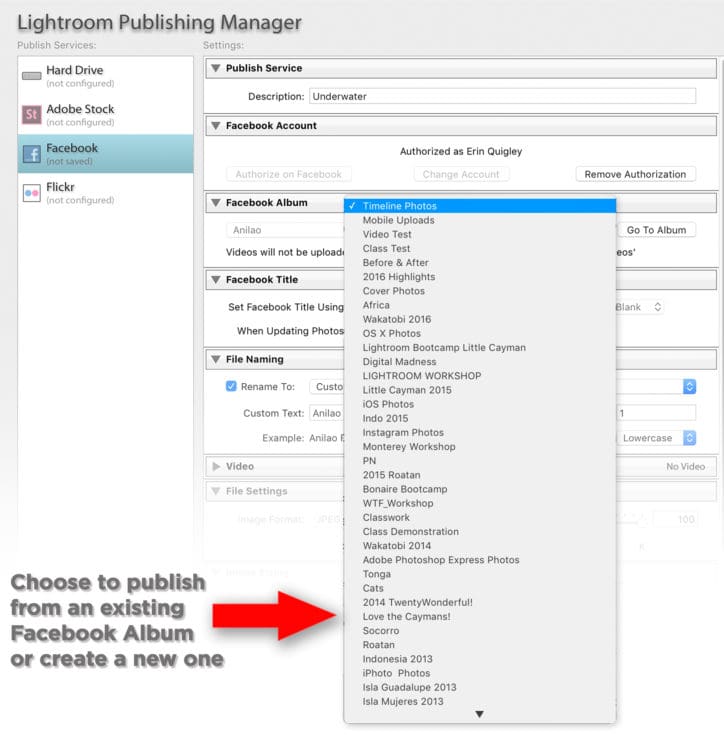 Because the Facebook Publish Service comes configured with Facebook defaults, you'll notice that some options are either unavailable or already filled in. For instance, Image Format in the File Settings panel is set to "jpeg" and grayed out, because jpeg is the only format that can be uploaded to Facebook. Likewise, the Image Size is pre-set to Long Edge 960 pixels, which is what Facebook recommends.
If you opt to add a watermark, be forewarned that you can't set per-image positions for it, so each image will display a watermark in the same part of the frame.
You can change your Facebook connection settings at any time. Click the + button at the top of the Publish Services panel and choose Facebook > Edit Settings, or Control-click (Mac)/ right-click (PC) directly on the header of the Publish Service you wish to edit and choose Edit Settings.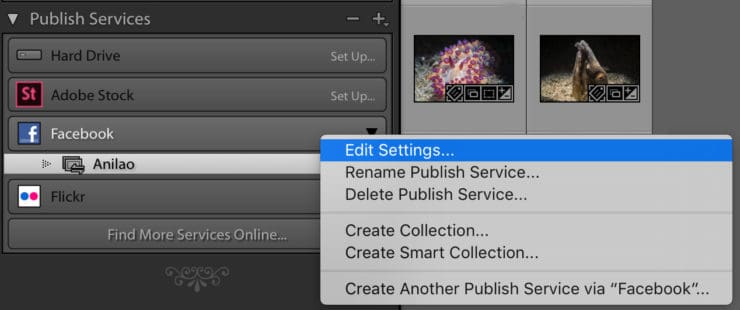 3. Populate and publish.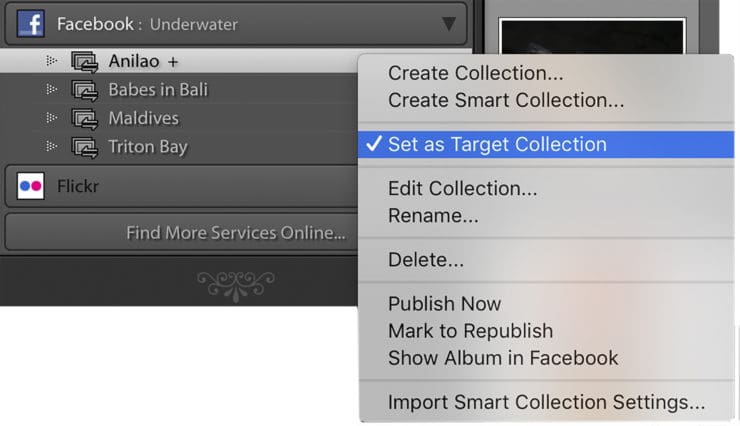 The easiest way to populate your Facebook collection is to drag photos from the Grid view to the collection in the Publish Services panel. You can also designate a Target Collection by Control-clicking (Mac), or right-clicking (PC) on the desired collection and choosing "Set as Target Collection" from the ensuing contextual menu. You can then toggle images in and out of the target collection by selecting them and tapping the keyboard shortcut "B".
Images in your Facebook publish collection will appear in one of four different categories (or "queues" in Adobe-speak).
• Unpublished images will appear in a category called "New Photos To Publish".
• Photos that haven't been modified since they were published are categorized as "Published Photos", and remain in that category until edited or deleted.
• Photos that have been edited in Lightroom after being published to Facebook appear in a queue called "Modified Photos To Republish". I don't republish very often, since the original image has to be removed manually from the Facebook website, and any Likes or comments are lost.
• Remove photos from a Facebook collection by selecting them and hitting the Delete key. If they haven't been published yet, they're simply removed from the collection. If they've already been published, Lightroom then categorizes them as "Deleted Photos To Remove". They're removed from the collection in Lightroom the next time you click Publish, but you must manually remove them from the Facebook website.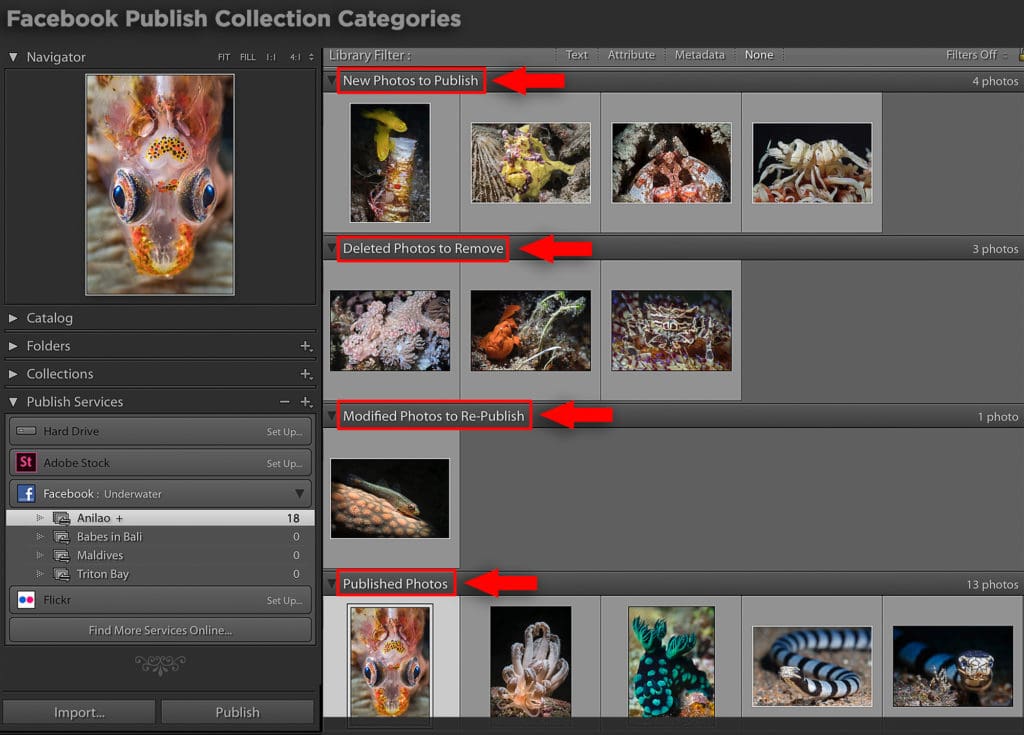 When you hit the "Publish" button at either the top or bottom of the Library Module, all of the categories will update with their specific action.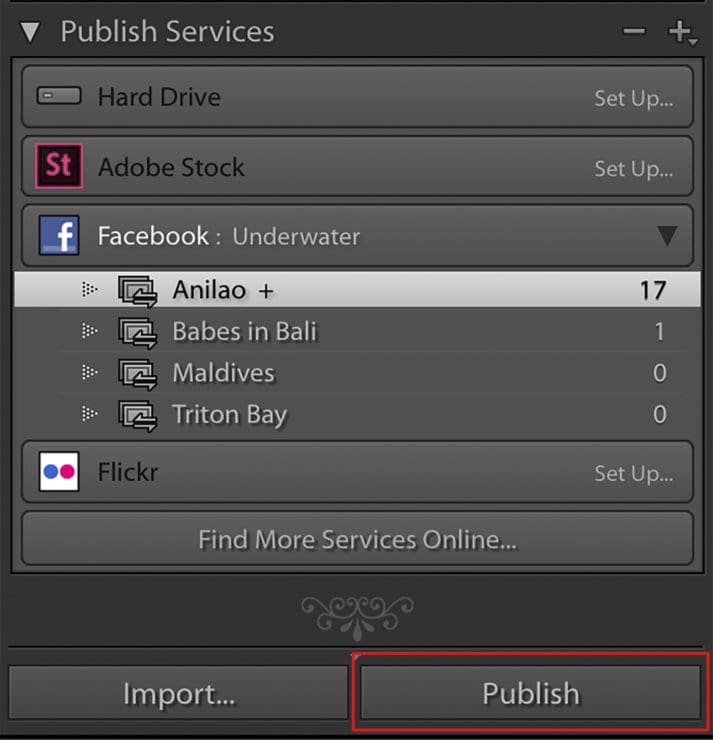 Beyond the Basics
•You can move any image waiting for deletion or republishing back into the "Published Photos" category by Control-clicking (Mac), or right-clicking (PC), and choosing "Mark as Up-To-Date" from the ensuing contextual menu.
• To edit, rename, or delete a collection, right-click (Windows) or Control-click (Mac) on it in the Publish Services panel and choose Edit Collection, Rename, or Delete.
• To create additional Facebook albums or collections under the same Publish Service, click the + button at the top of the Publish Services panel, and choose "Add Collection". Give the collection a Name, indicate if you want to include selected photos, and choose or create a Facebook album to upload to. If you're an advanced user, you can also choose "Create Smart Collection" and set up rules by which the collection will populate.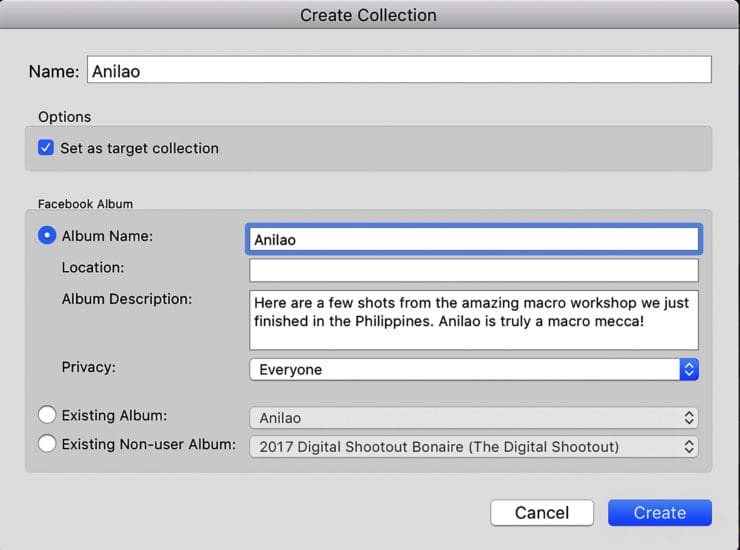 • Track Likes and comments for each published image in the Comments panel on the right side of the Library Module. There's a text box to add your own remarks. Click on the small circular arrow icon at the top left of the panel to refresh comments and Likes.